Post by havengallery on Feb 13, 2021 12:00:20 GMT -8
Haven Gallery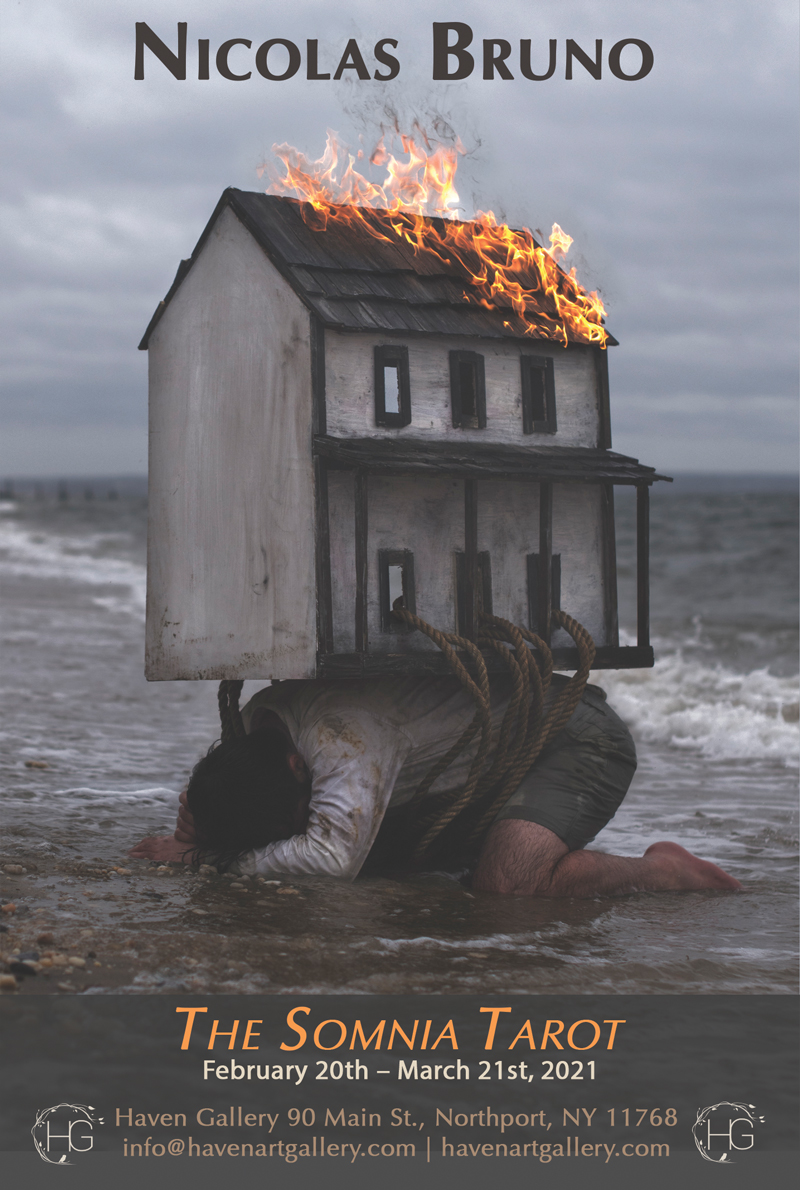 Nicolas Bruno, "The Somnia Tarot"

Northport, NY– Haven Gallery is pleased to present "The Somnia Tarot" a solo exhibition of new work by Northport based artist Nicolas Bruno. Following his two highly successful solo shows, "Between Realms", 2016 and "In Limbo", 2019, at Haven Gallery, "The Somnia Tarot" is the artists most ambitious project to date, as he chronicles the entire Tarot Card Deck with all of its suits, through the hauntingly beautiful dreamscape of his sleep paralysis. Bruno uses his quintessential characters, moods, symbolic pillars and backdrops in a breathtakingly poignant adaptation of the Major Arcana and Minor Arcana, totaling seventy-eight new photographs accompanied by three preliminary drawings. This eighty-one piece collection is the artist's largest series yet and both uniquely and elegantly execute the timeless narratives of the Tarot Deck.
Bruno's artwork confronts his lifelong battle with sleep paralysis. His artistic process represents and records each step of his cathartic journey from drawing the dream the moment he awakens, to building sets and costumes and ultimately inserting himself into the majority of these roles. Each aspect allows for therapeutic healing as the artist seizes control over these common anxieties of fear, solitude, and pursuit that permeate both our sleeping and waking hours. Bruno's command over these nightmares and anxieties through his artistic endeavors take his subconscious odyssey one step further embracing and expanding into empathy and collective connection.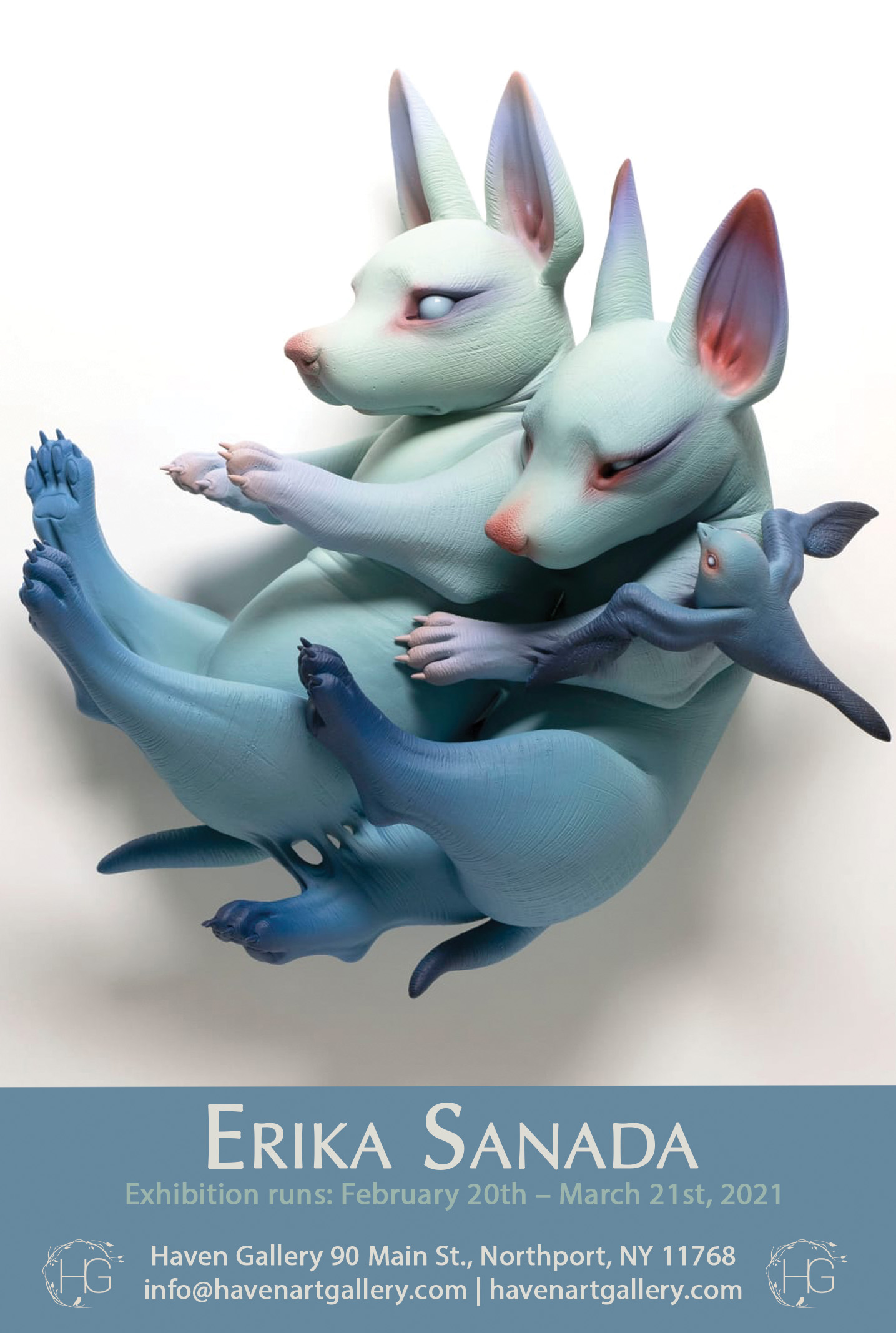 Erika Sanada, "Bonded"

Northport, NY– Haven Gallery is pleased to present "Bonded", a mini solo exhibition of new work by Tokyo born, now California based artist Erika Sanada. "Bonded" is Erika's second mini solo show at the gallery and features a collection of seven ceramic works that serve as a visual exploration of the artists plaguing anxieties found amidst her daily life. Sanada is known for her candy colored sculptures of animals, usually puppies, playing, dreaming and interacting with other animal cohorts. The puppies represent Erika and the empathetic viewer, while the added animals represent notions of anxiety.
In this particular series, Sanada challenges her anxieties though the idea of bonding with them as a means of confrontation. Her puppies engage their foils, in this case, the birds, in a playful manner. She describes this process as a means of "bonding", as her exhibition title suggests, as part of her continual journey in making peace with this common emotional and mental adversity.
Through her sculpture, Sanada cathartically confronts and copes with her own reoccurring anxieties while simultaneously connecting her audience through this universal affliction.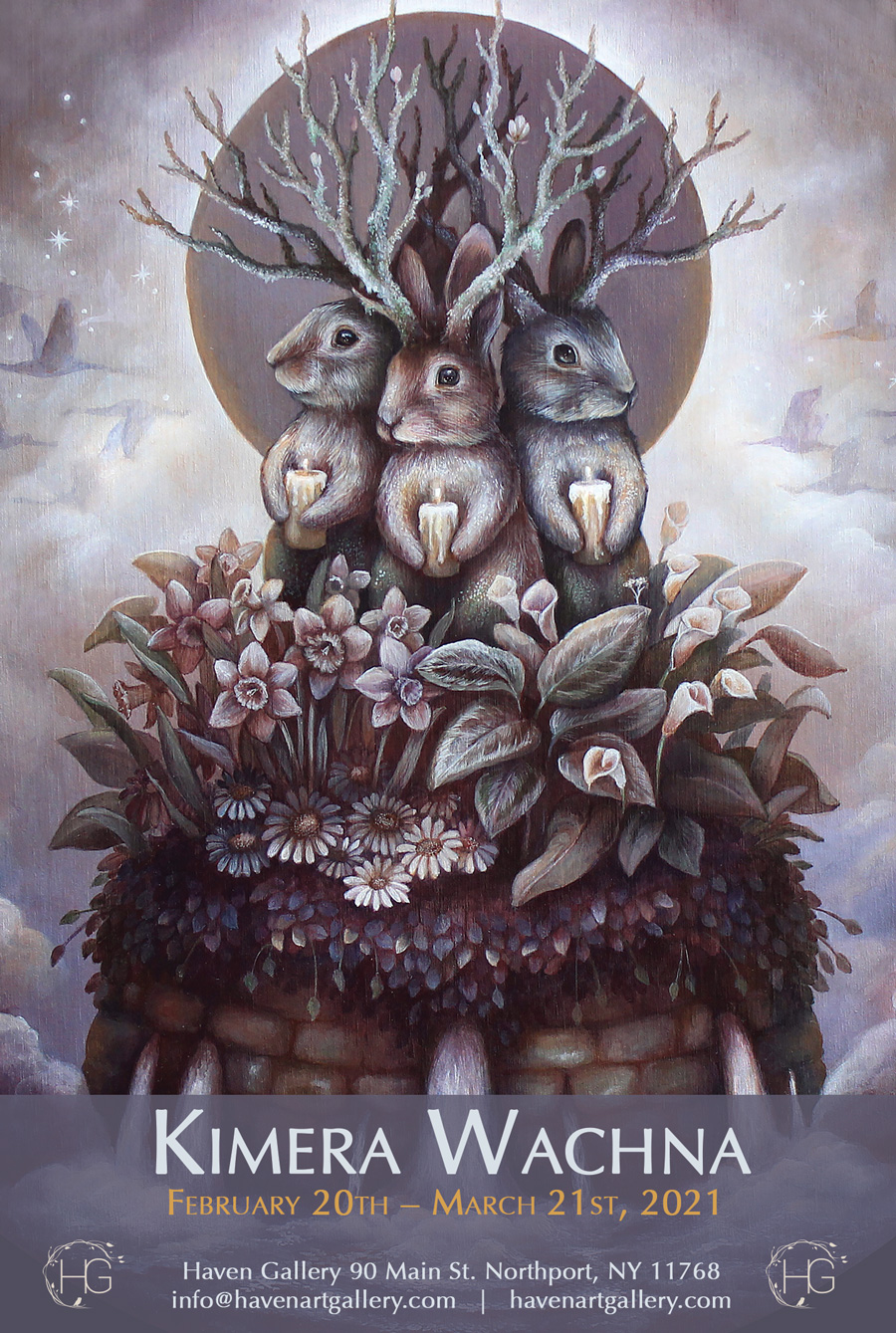 Kimera Wachna, "Noctua"

Northport, NY– Haven Gallery is pleased to present "Noctua" a solo exhibition of new work by Washington based artist Kimera Wachna. "Noctua" will include nine acrylic paintings on wood slices that embrace the grace and allure of the natural world coupled with the magic and reverie of fairytales. Kimera's use of jewel toned palettes are invigorated with her extraordinary application of light and contrast, akin to her exhibition title, creating an illuminating glow and heightened sense of narrative magnificence. Her animal protagonists frolic and play in a world inspired by her childhood home located in a foresty town in New York. Despite the tales of whimsy and enchantment, universal themes such as the natural cycles such as life, death and rebirth, pervade her paintings resulting in an elegant retelling of tales as old as life. Her visual narratives embrace the nostalgia and wonder of our childhood but even more so, the time and cadence of organic being.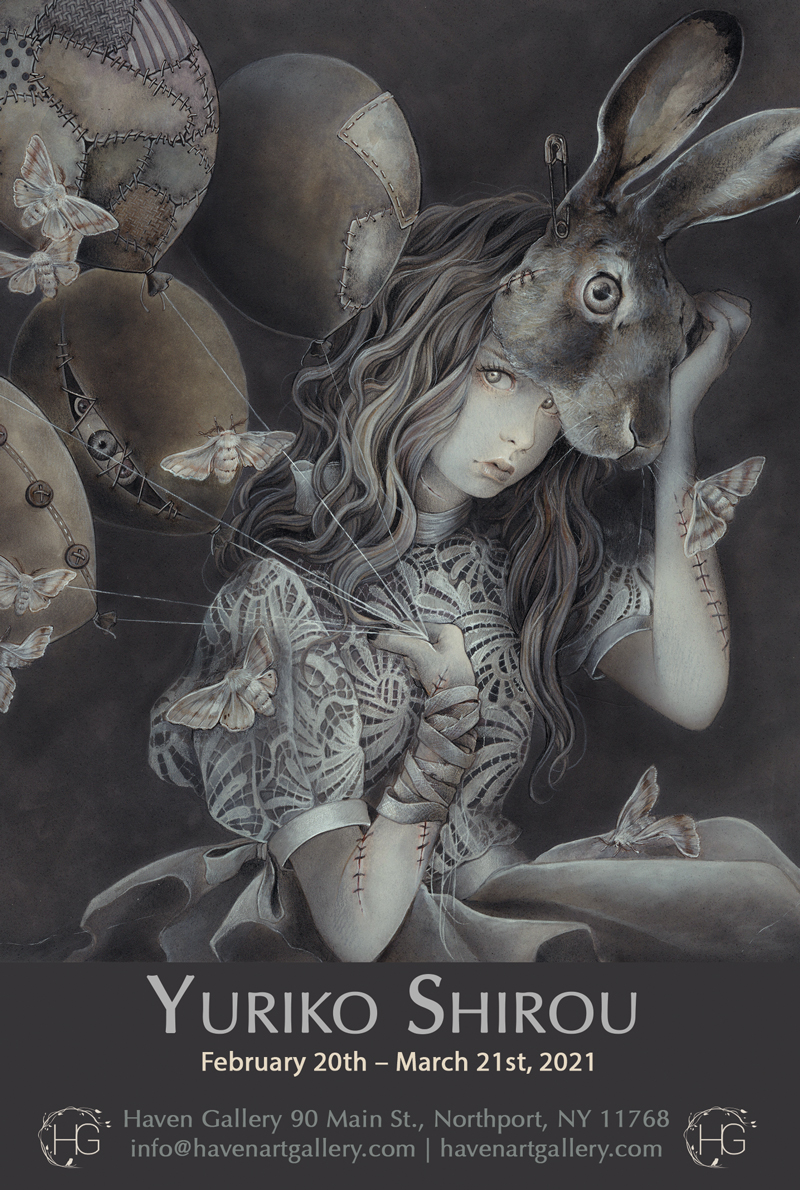 Yuriko Shirou, "Obsessions"

Haven Gallery is pleased to present "Obsessions", a solo show of paintings by self taught, Mexican illustrator, Yuriko Shirou. " Obsessions" is Shirou's second solo show at Haven Gallery and will consist of nine paintings encompassing watercolor, acrylic, gouache, ink, marker, pastel and colored pencils. Shirou's imagery is heavily inspired by the human condition at its darkest moments as well as narrative motifs often found in fairytales. The darker side of these stories are depicted through her own uniquely developed narratives seen through the lens of her emotional states. The artists use of contrast and sepia tones strikes an illuminating yet antiqued depiction of her sitters as they subtly pose and engage their telling environments. Her use of a mixed media technique provides depth and conveys a wide range of emotion. These visual explorations embrace challenging psychological states of the mind, such as doubt, mania, agony and unrest, amongst other anxieties, while simultaneously, casting a light on the darkest of moments to show the beauty lurking within.
Haven Gallery