Post by artelgallery on Sept 11, 2010 3:52:17 GMT -8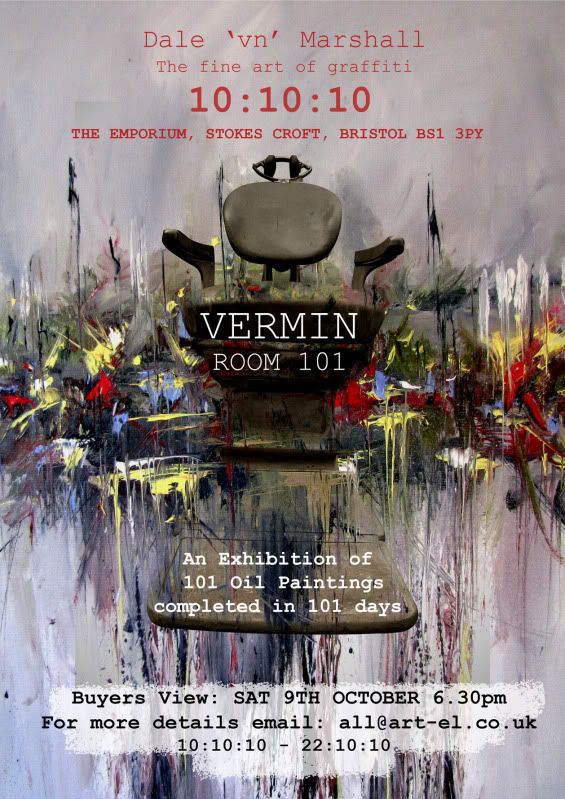 **Press Release**
for immediate circulation
Art-el proudly presents "Room 101, The Fine Art of Graffiti''. The first solo show of works from the artist Dale 'vn' Marshall a.k.a. Vermin
Room 101 will showcase 101 oil paintings completed in 101 days, (during the summer 2010), as well as five additional show paintings and site-specific installations, all deeply reflecting and exposing Vermin's ongoing battles with the rigours and demands of mental health.
The room 101 theme draws parallels from George Orwell's novel, 1984, and the artist's own personal experiences of being incarcerated in a mental institution in 1999.
In total around 140 paintings were finally completed in the 101 days before the artist enforced his stringent quality control to tailor that down to the required number.
All of the works in the exhibition will signal the artists salient diversion to the medium of oil on canvas, resulting in work with subtle backgrounds, impasto and consummate depth. Influenced by past masters and late 1800's expressionism, yet mixed with Vermin's highly recognisable piercing letter form and dirty graffiti aesthetic. Some are hectic, others more meditative. no doubt a reflection of the constant ebb and flow of a schizophrenic mind.
Vermin's oil paintings have already been lauded by members of the perceived graffiti establishment, as well as catching the eye of curators and collectors of contemporary fine art. His work is already owned by established collectors in the Far East, Europe, Australia and the US.
Mike Dring, Director of Art-el Gallery says, "Room 101 is a groundbreaking exhibition for Dale, an artist well-known in the South West aerosol/graffiti scene and beyond. This background has been the world that provided the foundation of his artistic outlet and schooling.
It's exciting that Dale has now chosen to take that in a totally unique direction by working in oils whilst studying at the renowned University of Art in Coventry. From a personal perspective it is also satisfying to see another member of the graffiti community making the graduation to Fine Art Graffuturism, following in the direction of a handful of others who have so successfully made the transition from city walls to abstract gallery work of the highest quality.
I'm also delighted to announce that all of the canvases for Room 101 will be sold way under their true market value and priced at a Room 101 themed £101. Hopefully this will give collectors and fans of his work an entry-level to his canvases of which we will be releasing no more for the foreseeable future due to exhibition and commission commitments.
2011 will see more solo and collaborative outdoor walls (similar to the one recently done in Bristol) as well as exciting projects in Johannesburg and the US."
Notes to editors:
• All works are oil on canvas measuring 50 x 60 cm
• Higher Res images available on request.
• Interview opportunities with Dale 'vn' Marshall.
All press, galleries, exhibition and work enquiries should be directed to Mike Dring, Art-el Gallery at
all@art-el.co.uk
.
The show also has a dedicated Room 101 website at
www.101010verm.in