Post by svenman on Nov 16, 2013 6:27:40 GMT -8
Breeze Block Gallery presents in Gallery 1:
Fragments: Ryan De La Hoz & Russell Leng
Two-person Exhibition

And in Gallery 2:
New Work: Lola Dupré
Solo Exhibition
Curated by Sven Davis
Breeze Block Gallery Portland OR.
5 December 2013 – 4 January 2014Breeze Block Gallery
is proud to present
Fragments
, a two-person exhibition featuring an all-new collection of work by artists
Ryan De La Hoz
and
Russell Leng
in the Breeze Block Gallery 1 space.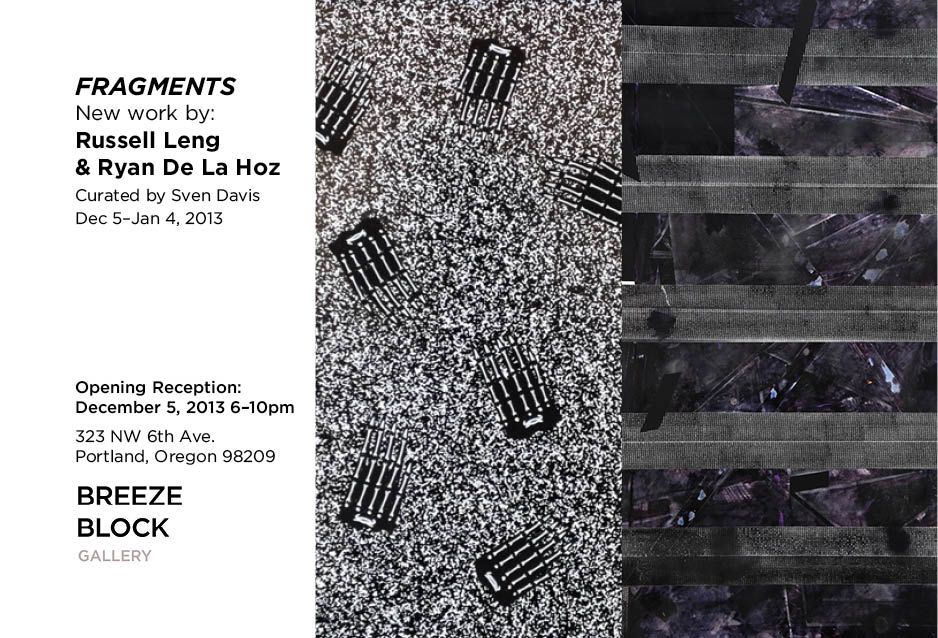 These two young artists and rising talents both use a variety of mediums in their divergent, yet congruous work. Commonly, both artists use recurring themes within their compositions, inviting the viewer to participate in the understanding of the represented context.
Ryan De La Hoz uses motifs in his work such as television static and ancient Greek imagery in commentary of how the past affects the future. Each of his works involves an element of destruction; a cracked face, a fragmented bust, broken vessels, distorted flowers within his contemporary re-appropriation of classicist imagery.
De La Hoz is very much an analog image-maker, using traditional studio practices with an emphasis on the hand-made. His traditional methodologies are fused with new technologies and media that impart his nostalgically charged imagery into something very relevant, something very now.
Russell Leng presents an ambitious new series of abstract paintings which extend upon the geometric work characteristic of his practice. In this new group of mixed media paintings, previous concerns of spatial depth and crystalline form are eschewed for a more pragmatic layering of shape, pattern and material, which emphasize studio experimentation.
In this new body of work, a sense of contradiction is apparent as crisp lines and precise shapes are met unexpectedly with loose applications of construction chalk, spray paint, or marker pen. The compositions recall associations with urban construction, and titles such as Scissor lift and Scaffold hint at tools used during the building process, placing emphasis on production rather than end goals. A tension exists between methodical and chaotic systems of working, resulting in a series of paintings that appear to be both fortified and fractured at the same time.
Breeze Block Gallery
is proud to present
New Work
, an all-new solo exhibition by collage artist
Lola Dupré
in the Breeze Block Gallery 2 space.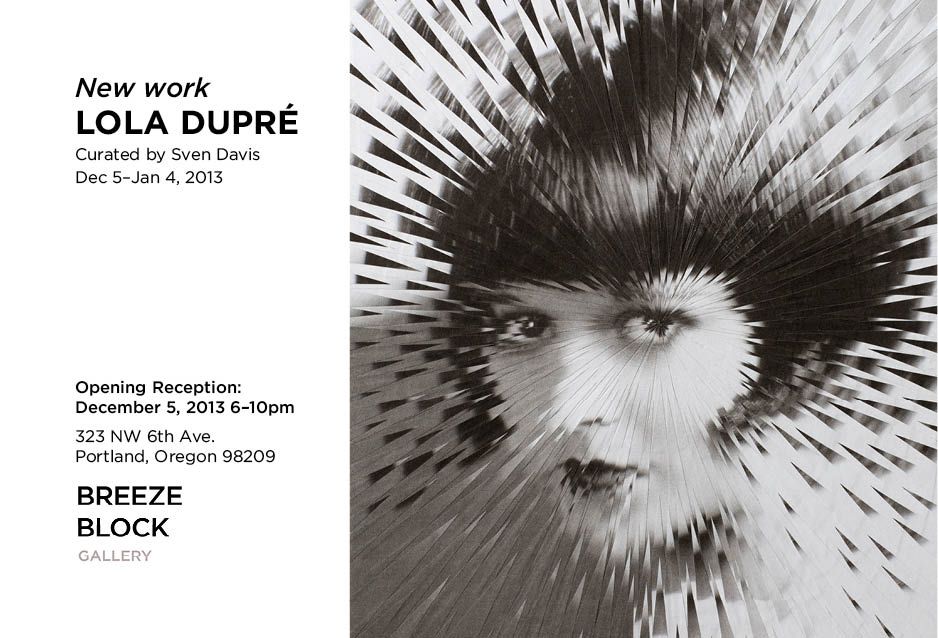 Lola Dupré's collages present altered, yet immediately recognizable images. Her unique portraits are constructed from iconic images sourced from within popular culture, manipulated and reimagined in an angular array of fractured shards.
Dupré's process driven studio practice starts with a repeatedly reproduced source image, and then Dupré sets to work, scissor cutting fragments of the image away, literally dissecting and reassembling the sourced image in a repetitive pattern, each time emanating further and further out from a focal point. The resultant effect is akin to that of looking into a shattered or distorted mirror as she re-appropriates the original image into her own distinctive aesthetic.
New Work features a varied range of work she has become renowned for; exploded portraits of Hollywood icons, her equine-human series, abstracted abstractions and a new series of reassembled landscapes. Dupré also presents a number of reworked collaborations with Glasgow graphic artist FiST, Rhode Island based illustrator Dillon Froelich and Gallery 1 artist Ryan De La Hoz.
Both exhibitions open at Breeze Block Gallery on Thursday 5th December 2013 from 6-10pm.
Ryan De La Hoz and Russell Leng will be present.
About Ryan De La Hoz
Ryan De La Hoz was born September 26th 1985 and is based in San Francisco, CA.
His work involves the use of multiple medias. Historically, he has used a combination of ink and cut paper within his work and recently expanded his practice to include textiles, laser cut sculptures made with hand manipulated found imagery, and custom fabricated puzzles that have been meticulously disassembled and rearranged to form dual layered dynamic compositions.
His work deals with loss, hope, isolation, freedom from oppression, the destruction of natural resources, myth, magic, and the pursuit of happiness amongst other topics.
He has exhibited his work in San Francisco, New York, Baltimore, Seattle, the Philippines, Japan, Hong Kong, Germany, Canada, and the United Kingdom. He has been published by FLJ Magazine in Tokyo, IdN Magazine in Hong Kong, Museums Press in the UK, and Beautiful/Decay in the US. In 2011 he was the recipient of the Canson Wet Paint Grant.
About Russell Leng
Russell Leng was born in 1986. He recently returned to his hometown of Vancouver, Canada following his receipt of an MFA in Contemporary Art Practice from Edinburgh College of Art in 2013. Prior to this, he received his BA from Trinity Western University in 2009.
Geometric forms interacting with organic marks characterize his work. This is realized in a variety of ways, such as a rigid line next to a loose application of paint or gradient.
His work has been collected and exhibited at galleries worldwide including Beers.Lambert (London), FFDG (San Francisco), Hungryman Gallery (San Francisco and Chicago), Fleming Collection (London), Embassy Gallery (Edinburgh), Parts Gallery (Toronto), and Trench Contemporary Art (Vancouver).
About Lola Dupré
Lola Dupré is a collage artist and illustrator working in the Alpujarra de la Sierra, Andalucía, Spain. She was born in 1982 in Algeria, and has travelled extensively throughout Europe, living and working in Scotland - where she was based 10 years working at the Chateau and Chalet Studios in Glasgow, France, Portugal and Spain since the turn of the millennium.
Her collages are handmade with paper, scissors and glue on wood panels.
Dupré's principal inspiration comes from the human face. In her photo-montage work she take's great joy in turning a well known image into a humorous or juxtaposed new reality, or exploding the image into a metaphysical new dimension.
Her work has been exhibited throughout Europe, the United States and also japan with a series of gallery exhibitions and art fairs. In addition to her fine-art career, she also undertakes commercial commissions with her work being featured on numerous magazine covers. Recent clients and collaborators include, Nike, Doubleday & Cartwright, New York Magazine, Flair Magazine Italia and Die Welt.
Contact Details
For more information, images, preview or sales inquiries, please contact Paige Prendergast:
paige@breezeblockgallery.com
Breeze Block Gallery
323 NW 6th Ave.
Portland
OR 97209
USA
breezeblockgallery.com/
Phone +011 503318.6228
Facebook Event page
www.facebook.com/events/115327002001200