Post by sleepboy on Mar 14, 2008 18:32:15 GMT -8
-----
*Artist information*
Website -
www.jeffsoto.com
Web Store -
www.potatostamp.com/
Blog -
jeffsotoart.blogspot.com/
Upcoming Shows Thread -
artchival.proboards54.com/index.cgi?board=showsevents&action=display&thread=754
-----
Finally!!! Been looking for one for a while and one fell into my lap.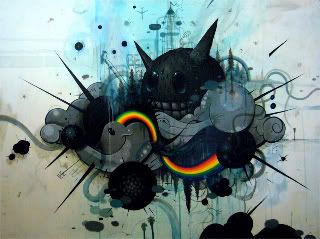 Yes, I know the image is small, but that was all I had to go on and I had literally like one minute to decide between the one I bought and the next two.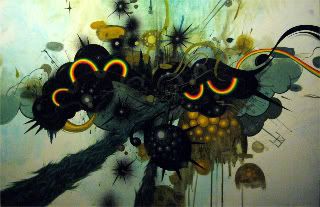 I hope I made the right choice. My thinking was to go for the more classic one because it's my first Soto and I did like the one I got the best. The green one was cool cuz it's kinda a different color for him...also, i dont' see any clear "characters" in it. It's kinda more abstract and I like Soto because his creatures. The other painting is cool too except the color of the paws threw me off a little. Paws/Legs are a cool new thing for him but again I went for the classic.
So the basic story. Disappoint multiple times on missing Sotos. Emailed him on the outside chance he may do a commission since he mentioned once that he was gonna go international for two years and I haven't heard of any shows so maybe he's free. He graciously said no but directed me to two other possible sources of paintings. One being New Image Gallery. They were gonna show his works at some NY art fair. Anyways... emailed them this morning and got a return email saying i had 30 mins to decide because they were shipping paintings out. Called the instant I got email and asked for bigger pics but they said no, the paintings are being picked up for delivery to NY. I begged and said i could pay now, they didn't think i was a serious collector. They reluctantly agreed to tell deliver to wait and open the box to find the price and name of the painting and paid right there... I kew if it went to NY, it would be hard to guarantee others wouldn't call about them, etc... Anything could go wrong. So, Jeff basically hooked it up and gave me a little inside info. The crazy thing is that these three are just some of the drawings/paintings they have and they are amazing!!! I am so lucky.
Downside of course is that I'm in major debt now LOL. At least I have one definitive piece from him now I think. It's 36" x 48" huge!!! And it's cheaper than the one that I wanted at Jonathan Levine that was the same size.
This one.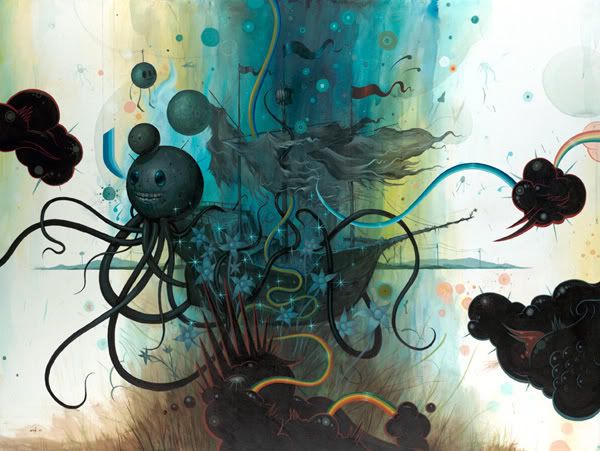 Sorry for the long post guys...I'm just ecstatic. ;D