Post by sleepboy on Oct 29, 2008 8:36:52 GMT -8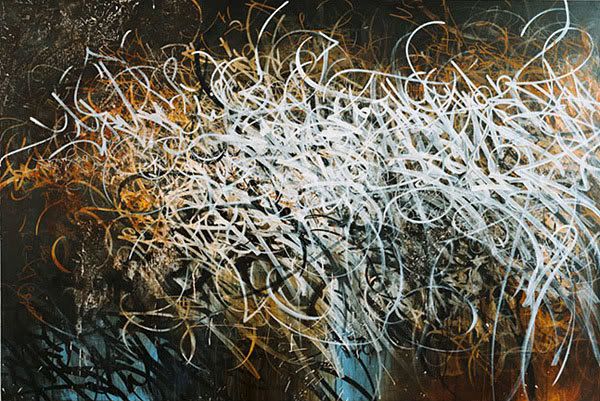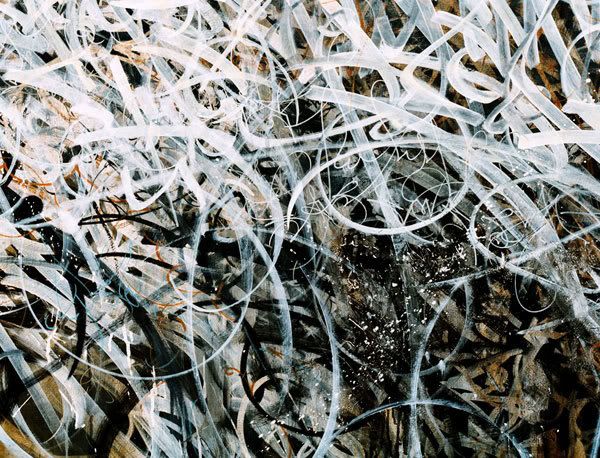 His stuff is so cool. I can't get past how nice the lettering is. There was a
nice interview
posted up on fecal face today.
Some snippets
Seeing your work close up shows me how labor intensive it must be, care to shed some light on the process?
The process in my work is similar to that of the city. The work builds its foundation through memory. In order to create a good painting you must put a lot of history in the piece. With my work the details are within the layers. Each layer tells its own story. I do everything from collage, to using charcoal, oil and acrylic paints, pens, markers, aerosol, etc. I try to step away from myself and imagine the perspective of other people, the look and feel of other environments rather than just my own.
Some of your work and script seems to be Asian influenced. How much has Asian culture influenced your work?
I have traveled to Asia at least twenty times, mostly to Japan and recently, Thailand and China. The influence I do receive from Asia is in terms of how I approach the work, and the way I let some things breath within the space. When one goes to a different culture, time after time, eventually that is going to influence the person. My script has been influenced by these experiences. Calligraphy and script are not the only focus of my work. They are elements and parts of my work that I use to draw with to show lines that carry meaning as symbols embedded with emotion.
Would you say there is still a lot of experimentation in your work?
Yes there is a lot of experimentation. Each new work must be original, must be groundbreaking from my last one. In my show 'Adaptation / Translation', the works have really jumped somewhere new, a different "elsewhere" as I say. I used a lot of new materials and mixed my own paints and chalks and worked with pigments not available in the market that my biologist friend makes for me. I would say my studio is more like a laboratory.